Since 1948
BOS is an employee owned and operated full service furniture dealership and provides workplace solutions for companies of all sizes in Chicagoland and beyond. Our extensive knowledge and experience allows us to add value to our clients in the way they function at work.
As the only Haworth dealership in Chicago with in-house capabilities to see a project from initial planning, through delivery and installation, as well as accepting a client's existing furniture in trade, we provide superior service to our clients by managing each step of the furniture process. We are proud to be one of the few dealers in the country to have earned the prestigious "Haworth Best in Class" award multiple times.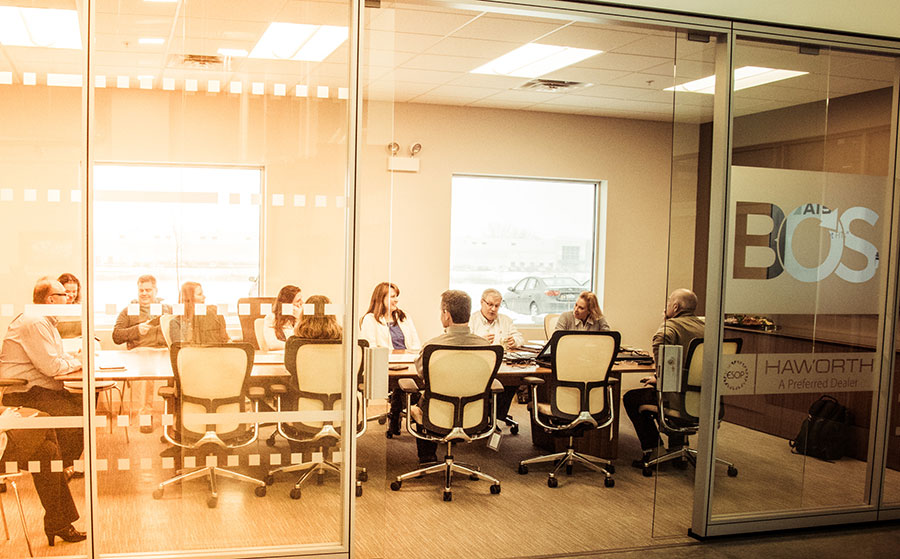 With our long standing presence in the furniture industry, BOS has built solid relationships with our manufacturers. As a premiere Haworth dealership, we have established purchasing power in our industry, which permits us to provide competitive pricing to our clients. This, combined with our capability to provide refurbished furniture, sets us apart and allows us to customize solutions to each of our clients' requirements.
We live by these core values:
Integrity – to have a valued partner you can trust and stands behind its work.
Inspiration – to continue to grow with our clients and the ever changing world we live in. We keep up to date with the current trends and test these trends to make sure they are a good fit for our clients. We strive to inspire your spaces to reach new levels of satisfaction.
Commitment – We know that a current item of extreme importance might change slightly as new regulations come into play. BOS is committed to learning alongside our clients and keeping up to date on the new issues surrounding healthcare.
BOS is one of America's premier office furniture dealers with locations in Illinois and Florida. For almost 70 years, we have been inspiring great places to work, live, heal, govern and learn.
Quality new and used furniture, a digital agency, union and non-union installation firms – experience 360º workspace services with BOS Holdings.
Working at a computer all day doesn't have to take a toll on your mind and body. Discover a better way to work with "The Movement Mindset" from BOS.