A key resource for our clients is BOS's set process. Our client's feel comfort in being able to track each step knowing that we are all working toward the same goal. Our list of the categories but the process followed within each can keep our client moving along at a speed they need while rest assured that we are taking care of the details from small to large.
Define Project Requirements
Create Contact List
Develop Timeline

Value Engineer to Maximize Client Savings
Provide Manufacturer Options
Develop Initial Budget
Refine Specifications As Needed
Check Lead Times to Include Fabrics and Special Products

Confirm Building Conditions (Docks, Elevators, Required Protection, et. al.)
Confirm Permit Requirements
Gain Understanding of Power and Core Locations with Building Electrician
Field Measure to Guarantee Critical Hold Dimensions

Order Product
Issue Timeline w/ Guaranteed Milestones
Develop Client On-Line BOSaic Portal for Status Reports, Drawings, etc.
Review Acknowledgements for Accuracy and Ship Dates
Create Working Drawings in Tandem w/ Design Firm and Contractor

Work w/ Manufacturers to Schedule Trucks and Product Delivery Schedules
Provide all COI and Permit Requirements
Create Detailed Installation Documents
Receive Product and Verify Accuracy; Check for Damages/Shortages
Coordinate Low Voltage and Electrical Contractors

Maintain Daily Contact and Updates
Coordinate Trash Removal/Dumpster Exchange and Usage
Communicate Punch List Issues Immediately

Provide Weekly Update on Punch List
Update CAD Drawings to Reflect A-Built Conditions; Post on BOSaic
Complete Punch List Items
Provide Product Orientation
Offer Advisory Options on Post-Move-In Client Needs

Provide Detailed Invoices
Issue Client Satisfaction Survey
Coordinate Decommissioning of Existing Furniture
BOS to Remove the Furniture at a Revenue Neutral or a Trade-In Value
Continue to Nurture a Long-Term Client Relationship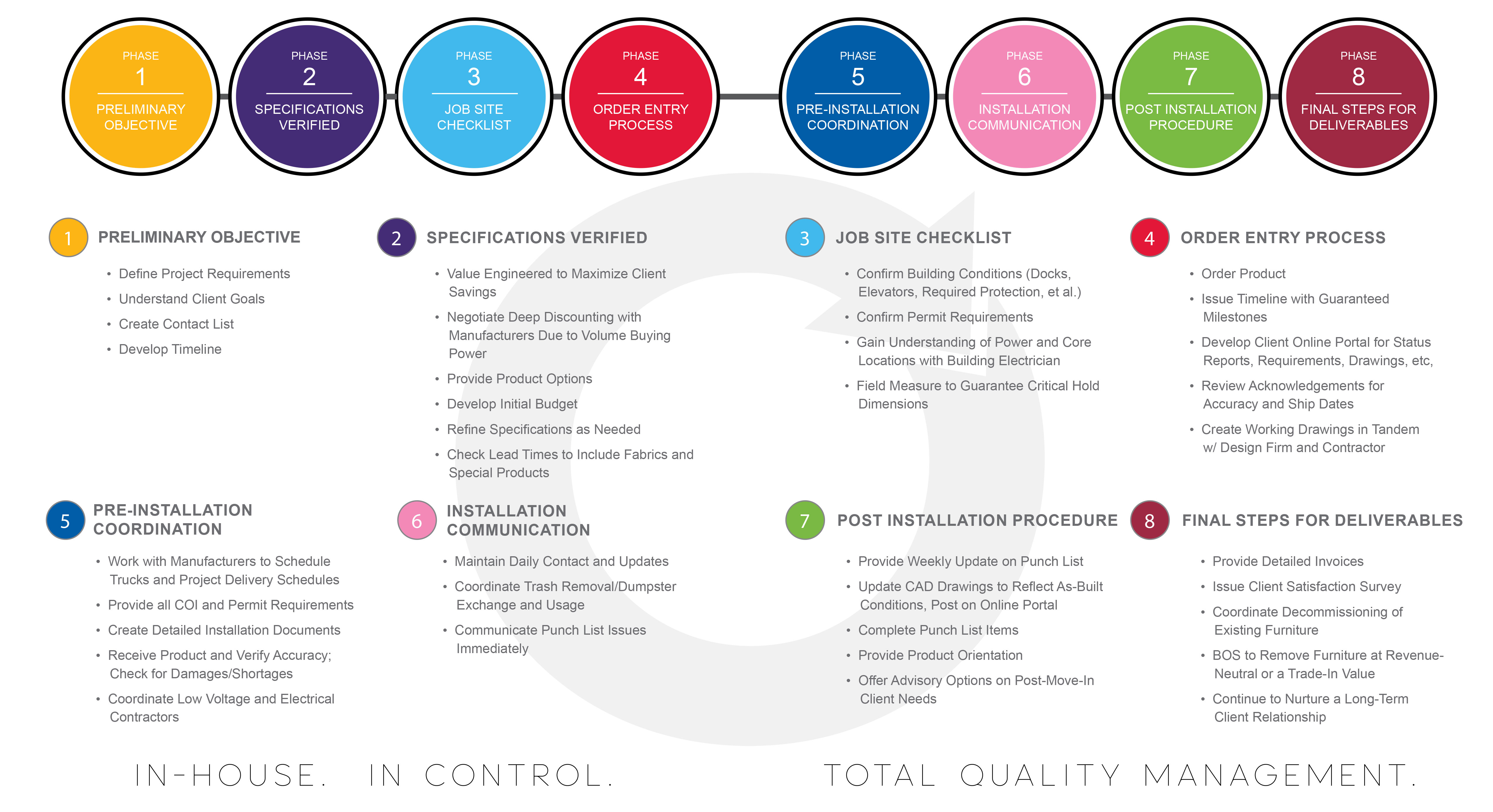 BOS is one of America's premier office furniture dealers with locations in Illinois and Florida. For almost 70 years, we have been inspiring great places to work, live, heal, govern and learn.
Quality new and used furniture, a digital agency, union and non-union installation firms – experience 360º workspace services with BOS Holdings.
Working at a computer all day doesn't have to take a toll on your mind and body. Discover a better way to work with "The Movement Mindset" from BOS.